Boom: Worlds Collide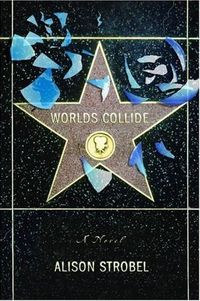 Alison Strobel's Worlds Collide is about a couple, one a movie star and one an average girl next door, who meet, fall in love and face challenges of faith and the difficulties of life. The frame story, interspersed throughout the book, is that of a biographer who is not a Christian, hearing their stories and thinking about faith. The premise of this book was interesting: my reason for choosing to review it. While there were clever lines and quips, I found the story overly wordy and filled with extraneous detail that took away from the central purpose of the book.
While I'm sure that Ms. Strobel did her research, I also couldn't help but question her knowledge of the world she was depicting. Some things: a contemporary worship service, a small group of girlfriends and a life in California, were fleshed out and visual, but the Hollywood glamour did not always ring true. However, her knowledge of California (she is a resident of the state) did make the book more enjoyable. She references landmarks and places that many (even non-Californians) will be familiar with.
The story has redemptive qualities and is in line with Biblical standards.
If you're looking for a light, action-packed story heavy on plot with a Christian twist, this is your book.
I received this book for free from WaterBrook Multnomah Publishing Group for this review.
If you appreciate my review and wish to rate it, please use this link.